Sneakers is an American term referring to a footwear with soles made of rubber or other synthetic material and the upper part made of leather or canvas. Sneakers were originally intended for athletes but today, ordinary people can casually wear it.
Sneakers comprise of high tops, low tops, mid cut, sneaker boots and slip on. If you are planning to buy sneakers, it is good if you know your shoe size and famous brands that offer the best experience.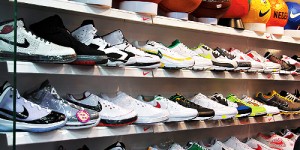 Adidas
Adidas is a German company with many products specializing in sportswear. They mainly design and manufacture footwear, bags, shirts, watches, eyewear and other sporting goods. Adidas is the largest sportswear manufacturer in Europe and the second biggest sportswear manufacturer in the world. Its subsidiary, Reebok also produces athletic shoes, apparel and accessories.
The company carries three parallel bars.
Converse
Converse is an American company that manufactures athletic apparels and shoes. When the company was starting, it manufactured tennis shoes and later on basketball shoes. When there was war, the company shifted and even manufactured shoes for the military. But the glory of Converse never meant to last because many basketball players switched brands.
Nike
Nike is also an American company that designs and develops footwear, apparel, equipment, accessories and services. In fact it is the world's leading supplier of athletic shoes and apparel and a major manufacturer of apparel equipments. They sponsor a number of high profile athletes and sports teams around the world.
They carry the swoosh logo.
Puma
Puma is a German company that manufactures athletic shoes and other sportswear. They offer lines of shoes and sports clothing. Footballers and other basketball players prefer this brand.
Their logo is easy to recognize because of the jumping Puma.
Sketchers
Sketchers are famous because of its stylish designs which became more famous because of celebrities endorsing it. They now have a number of athletic shoes and casual and dress styles for men, women and children.